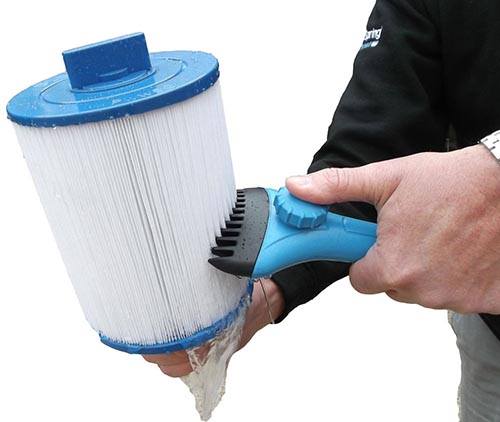 Filter Cartridge Maintenance 100
Here is an article about how filter cartridges work and the important role they play in maintaining crystal clear and healthy water in your hot tub, swim spa or pool.
Silent but powerful features, your hot tub filters help ensure your hot tub's overall performance and long life. They work in the background, trapping particles as water runs through the filter media and acting as the most important line of defense against dirty spa water.
HOW HOT TUB FILTERS WORK
Every hot tub has some type of filter, because even when your hot tub water looks clear, contaminants such as body oils, lotions, dirt, and other environmental debris are often present. The way filters work is fairly simple: Water passes through them, trapping unwanted particles in their folds.
Most hot tub filters today are designed as cartridges that can be easily removed, cleaned, and replaced. Each cartridge consists of a core structure—usually plastic—and a medium wrapped around the core that acts as the filter. Made of polyester or other materials, the medium is pleated; the many resulting folds greatly increase the surface area of the filter for better cleaning action. The more filter surface area, the cleaner your water will be.
The particles trapped by the filters remain until they're cleaned out, so your role in maintaining the filter contributes greatly to its effectiveness. Neglecting regular filter maintenance and replacement could strain your hot tub pumps and heating system and cause dirt and grime to build up. Read on for recommended cleaning and replacement schedules.
A BETTER KIND OF HOT TUB FILTER
While polyester or "paper" filters have long been trusted and reliable options for hot tub sanitation, innovations in hot tub design have taken filter cartridges to new levels.
With superior filters, your entire hot tub system will run more efficiently. You'll enjoy:
Clearer water

Increased jet output and power

Less electricity useage

More reliable circulation and heating

Even easier cleaning and maintenance
Filters can be hosed down, sprayed with dealer-recommended cleaners, soaked in cleaning solutions, or put directly into the dishwasher. Just be sure to run the dishwasher without soap and with an unheated dry cycle. These advanced ceramic fiber filters hold up to regular rinsing better than paper filters do. When properly maintained, they'll continue to provide crystal-clear spa water for four to six years of use.
WHY FILTER PLACEMENT MATTERS
Whenever the spa water is moving, your hot tub should be constantly cleaning. However, not all spa manufacturers deliver that level of dedication. Some hot tubs don't include filters at every intake location; instead, they rely on just one or two filters to handle a disproportionate volume of water. The intakes without filters have suction fittings that pull water into the pump. That unfiltered water is then pushed back out through the jets.
Lakeland Unique Pools, Spas-N-More, 2326 E. Edgewood Dr. If you're unable to get to the shop and you'd like us to send you some, give us a call and we'll happily help – 863-940-9826.
Stay tuned for more guidance and tips from the pros!
The Unique Team – WE MAKE IT FUN TO STAY HOME!
https://lakelandhottubpoolandpatio.us/wp-content/uploads/2018/01/21761824_706338456223506_8545808673863564778_n.jpg
422
500
uniquepsp
https://lakelandhottubpoolandpatio.us/wp-content/uploads/2021/03/affordable-new-logo-800x298.png
uniquepsp
2018-01-31 20:15:24
2018-04-25 19:00:31
Filter Cartridge Maintenance 100